There are multiple convenient ways to bid with Palm Beach Modern Auctions.
BIDDING ONLINE
Bidding through our online platform is easy and exciting! Links to our online catalogs on our
home page
immediately after an auction goes live (usually 2-4 weeks before the auction date).
TELEPHONE BIDDING
If you register to bid by phone, a representative from Palm Beach Modern Auctions will call you a few minutes before your lot comes up for auction and will place bids for you live.
You can also print a
bid form
and fax to 561.586.5540 or email to
info@modernauctions.com
. It is not necessary to reveal your maximum bid on the printed form because you will be bidding live by phone.
ABSENTEE BIDDING
If you are unable to attend our auction, you may place absentee bids. Our auction house will place your bid(s) up to, but not greater than, the maximum amount specified on the absentee bid form. The auction house will try to purchase the lot(s) for as little as possible but will not exceed the maximum bid amount specified.
IN-HOUSE BIDDING
Palm Beach Modern Auction is open to the public for live bidding on the floor.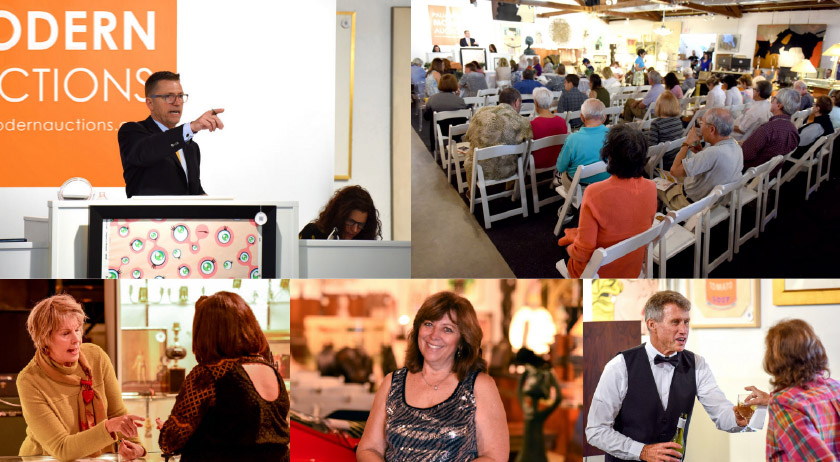 To bid in-house, see our receptionist at the front desk. Please have a photo ID and a credit card on hand. Once registered, you will receive a paddle. Events are catered and valet parking is complimentary. Registration is required to enter the main auction area.
IMPORTANT NOTES ON BUYING AT AUCTION
All bidders are required to read and agree to our
terms and conditions
.
Payment & Shipping: Palm Beach Modern Auctions will furnish you with an invoice. You may pay the invoice by check, bank transfer, Visa, Mastercard, American Express, Discover and Paypal. Once payment has been received, you may pick up your items or arrange for shipment. For your convenience, a list of shippers used by some of our clients is available upon request.